The Kid with A lot to Say
Giving the public something funny and entertaining to read since 2004!
Sunday, October 30, 2005
News Alert:Kiran Chetry is Pregnant with a ugly man's baby!
Image courtesy of Wikipedia
I know that I am late with this news about Kiran Chetry, but I am going to post it anyways. Kiran Chetry is pregnant and has been for some time. She is due to drop in Feb 2006. Anyways, the guy that got her pregnant is an average looking muthafugga. His name is Chris Knowles and he is a weather guy for FOX news. I thought Kiran messed around with good looking guys, not average looking pale men? If you want to see what Chris Knowles looks like check out the site at the bottom(I am not going to post a pic of his ugly ass on my site).
Chris Knowles Comparison Pic(He looks nothing like George Clooney!)
The Kid takes a look at El Paso News People:Michelle Gielan
Image property of KTSM
Some people have been wondering as to what happened to Michelle Gielan. Well, Michelle is now working in Chicago aka "The Windy City". She is a reporter for news channel 32 Fox in good ole Chi-Town. You can read more information at the website below. Peace!
Michelle Gielan News
Wednesday, October 26, 2005
The Kid takes a look at Chicks from Foreign Countries:Jackie Bracamontes
Jackie Bracamontes is a Mexican soap opera actress and was Miss Mexico 2000. She has done modeling and has appeared in numerous commercials. All I can say about this girl, is that she is hot and she reminds me of a girl I know.
Sunday, October 23, 2005
The Kid takes a look at 1980s Automobiles:Porsche 930 Turbo Slantnose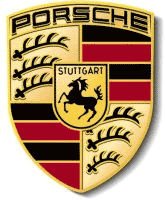 Most people often ask me, what the fugg is a flat nose Porsche? Okay, a flat nose Porsche is an 80s era 911 Porsche with hidden headlights and a somewhat flat front end. The flatnose Porsche was produced around 1985 or 1986, only a few hundred flatnose Porsche 911s were made. The flatnose produced around 300 hp and could accelerate from 0-60 in 5 seconds and could reach 170 mph. As far as the price goes, it was priced at 60,000 to 70,000 dollars. You know, the good thing about Porsches is that they can be driven every day and are not extremely expensive to maintain like Ferrari cars. To all those people that are thinking about buying an old 911, just buy one. You will not be disappointed with your purchase.
Check out a pic of a flatnose Porsche at wikipedia.com:
Flatnose 930 Picture
The Kid takes a look at one of his favorite Italian cars of the 1980s:The Ferrari Testarossa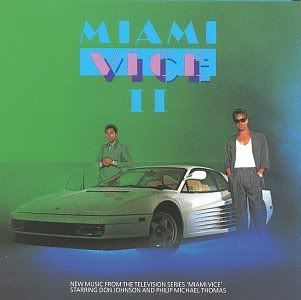 Ricardo and Sonny with an Italian beauty
When I was a small kid growing up in the 1980s, I remember falling in love with the Ferrari Testarossa. I was able to see the Testarossa in the cop show Miami Vice(My mom was a fan of Philip Michael Thomas aka Ricardo). The left and right side grill, its huge wide rear tires, and the Flat 12 engine are what attracted me to the Testarossa. The Testarossa was a perfect example of Italian performace and style. It could do 0-60 in 5.2 seconds and it could reach a top speed of 180 mph with its 390hp flat 12 engine. It was introduced to the public in 1984 and was sold for only 80,000 dollars. The Testarossa didn't appear in Miami Vice until the third season (1986-1987) and was originally painted black for the show. According to Ferrari historians, Miami Vice boosted sales of the Testarossa. By the end of the 1980s, the Testarossa was being sold for 95,000 dollars and some change. Production of the Testarossa continued into the 1990s and production of the car ended in 1996. Today a Ferrari Testarossa can be bought for as little as 45,000 dollars. Maybe one day I will get the chance to buy a Testarossa, but for now I can only dream about driving one on the streets of Miami!
The Kid takes a look at 1980s Automobiles:1987 Buick GNX
1987 magazine ad for the Buick GNX
The 80s were a horrible time for American horsepower heads. Many of the cars that were manuafactured by GM and Ford were not known for high horsepower and torque. It wasn't until 1987 that GM's Buick line released a car named the GNX. The GNX was actually tuned by ASC McLaren. The ASC McLaren company is known for making fast cars(F1 and the Mercedes SLR) and tuning engines. The GNX was only made for one year, and 547 of them were made. It was powered by a 3.8 liter (231 ci) turbo charged V6 engine. The horsepower rating was somewhere between 280 to 300 hp and torque was 360 ft-lbs. 0-60 time for the GNX varied for some weird reason.
Car and Driver
did a test on a GNX and achieved a 0-60 time of 4.9 seconds. According to GM, the GNX could go from 0-60 in 5.3 seconds and could hit a top speed of 125 mph. For a brief moment, American horsepower and performance was back because of Buick and their mighty GNX.
Saturday, October 22, 2005
The Kid takes a look at 80s automobiles:Lamborghini LM002:The first Italian SUV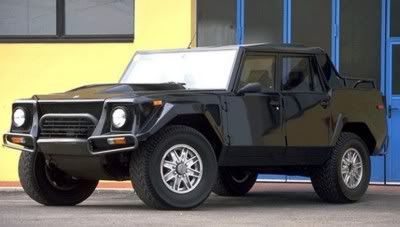 Image courtesy of Autosrapidos
Many people think that Porsche was the first supercar company to produce an SUV. As a matter of fact, they are not the first supercar company to produce an SUV. In the 1980s, Lamborghini decided to make an SUV called the LM002. To describe this vehicle in simple terms, I would have to say that it looks like an early version of the GM Hummer. You know what, it looks just like a fugging Hummer. Maybe GM did take some ideas from Lamborghini and the LM002. The LM002 was manufactured from 1986 to 1992 and was not a huge profit maker for Lamborghini. This SUV carried a 5 liter v-12 engine that produced a supposed 455 horsepower. The LM002 engine was backed by a five speed manual transmission and a two speed transfer case. People thought that the LM002 was only built for speed, but they were dead wrong. This truck/SUV had four wheel drive and could be used for serious off-roading. According to Lamborghini heads, only 300 LM002 were produced from 1986 to 1992. With that being said, the LM002 is a rare machine and should be given a place in automotive history books!
The Kid revisits the 1980's:George Michael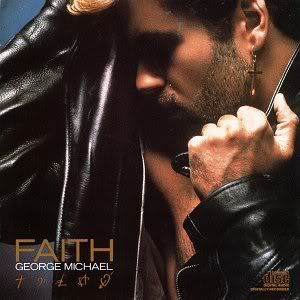 George Michael's first solo release,
Faith
Just like Eddie Murphy, George Michael had tremendous success in the 1980's. George Michael's songs could be heard all over the radio, in clubs, and even in movies. The man knew what sounded good and what would appeal to the U.S. and British markets. His productions and voice were flawless and almost every single that he released hit number one on the charts. Songs like "Faith","I want your Sex", and "Careless Whisper" were all embraced by women and men. George Michael's success did continue into the 1990's. His 1990 album
Listen without Prejudice
featured the hit "Freedom". I believe that "Freedom" reached number one on the Billboard pop charts. When the mid 1990's came into play, his popularity in the United States went down. I guess the U.S. didn't care about George and his pop productions anymore. For those people that want to see pop music done right, listen to any George Michael record from the 80s or 90s.
Friday, October 21, 2005
The Kid revisits the 1980's:Eddie Murphy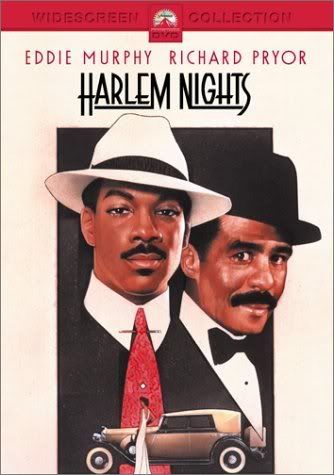 The 1980's were very good to Eddie Murphy and his career. During the 80's era, Eddie released many hit movies and he also introduced Arsenio Hall to the world. When Eddie came out with a movie, people would run out to the theatre immediately. The movies that really made money for Eddie were Beverly Hills Cop I and II, 48 Hrs, and Coming to America. In 1989 Eddie directed and produced his first feature film Harlem Nights. People often overlook this gem of a movie, I would have to say that Harlem Nights is one of Eddie's best films. What really made Harlem Nights stand out was the cast. Red Foxx, Richard Pryor, Della Reese, and even Charlie Murphy appeared in this film. Yes, the 1980s were good to Eddie. The 90s(Beverly Hills Cop III sucked big dick) and the 2000s(Pluto Nash sucked a fat elephant schlong) were not so good to Eddie. So remember when you are out and about renting movies, pick up a few 1980s Eddie Murphy flicks. You will not be disappointed.
Thursday, October 20, 2005
The Kid revisits the 1980's:Teddy Ruxpin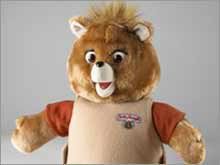 image courtesy of CNN.com
When Teddy Ruxpin hit store shelves in 1985, I was two years old. By the end of the 1980's I was six years old and I remember seeing many of my peers with Teddy Ruxpin bears. At the time I really didn't give a damn about Teddy Ruxpin, all I cared about were hot wheels and matchbox toy cars. The idea of having a creepy bear read to you, was pretty weird and freaky to me. If I can remember correctly, Teddy Ruxpin was pretty much a teddy bear with a casette player built into it. Each Teddy Ruxpin bear came with a few casettes and books for you and your kid to read. You could pop in a casette into Teddy's back, and he would read with you and command you to buy more crappy casettes. I believe that production of Teddy Ruxpin ended when the 1980's ended. Now Teddy Ruxpin has come back from the dead! They are now producing Teddy Ruxpin again in 2005. The new Teddy Ruxpin now comes with a digital disc or card and a few crappy read along books. Check out the new Teddy Ruxpin bear at the link below!
Teddy Ruxpin Offical Site
The Kid revisits the 1980's: Big Oversized Sunglasses!
Image courtesy of Bergdorfgoodman.com
Big oversized sunglasses could be found on almost every person that was alive in the 1980's. Ray Ban, Persol, Vaurnet, and Porsche Design were all responisble for making big sunglasses. Movie stars, tv stars, and teeny boppers all owned oversized sunglasses and cherished them. What I want to know is, what was the point of wearing oversized frames? Did they hide real bad dark circles and black eyes very well? Anyways in 2005, I have noticed that many people are starting to wear oversized sunglasses again. Like the saying goes, what is old is new again!
Sunday, October 16, 2005
The Kid revisits the 1980's:Pretty Hate Machine NIN
Pretty Hate Machine=An excellent album! Nuff Said!
Heather Hunter=Serious Artist?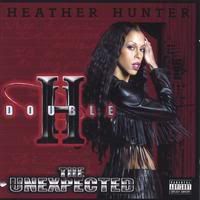 When I heard that Heather Hunter was working on an album back in 2000 on some VH1 special, I laughed my brown ass off. I thought to myself, can this chick really rhyme? and what is she going to rhyme about? Well it is 2005 and Heather is going to release or has released an album titled "The Unexpected". I have already listened to the single "So Serious" and I have also seen the video on BET Late! You know; I have to admit that the song has decent production but her flow is horrible and cheap. Heather should either work on her flows or become a mother. If she continues rhyming like a bum, she might end up doing tours with Vanilla Ice. Oh one more thing, Heather doesn't look as good as she use to look. For some strange reason she looks very pale? If he anybody wants to check out the website for her record label, you can check out the link below.
Heather Hunter's record label website
Friday, October 14, 2005
Tim Westwood is a funny Douche Bag!
Hey I'm back again with a post on douchebag Englishman Tim Westwood! Who is Tim Westwood you ask? Well, Tim Westwood is a DJ/radio host from somewhere in England. What I have noticed about this guy is that he has a tendency to kiss the ass of his guests. He kind of reminds of Joe Clair (host of rap city from 94 to 99). Another thing I have noticed about Timmy boy is that he so desperately wants street credibility. According to some news reports, someone attacked him with a plastic wiffle bat and then tried to shoot him with a dart gun. According to him the English Bad Teeth mafia were after him? I don't know, this guy is trying too hard at trying to be a street guy. Seriously though, who would want to shoot a douche like Tim Westwood? If you want to see what this douche bag looks like and want to find out about his new show, check out the following link at unkut.com
Tim Westwood article at Unkut.com
Thursday, October 13, 2005
Lamborghini Countach Site
I found a real nice site on Lamborghini Countach coupes. This site has an awesome video clip section on an 80's era black Countach. Out of all of the clips, there was one clip that stood out and blew me away. I have decided to post a link to that clip, so here it is for your viewing pleasure:
Countach speeding Video Clip
Lamborghini Countach fan site
Michelle Valles is or was back in El Paso!
For those people that do not know who Michelle Valles is, she was a news anchor for NBC Channel 9 in El Paso, Texas. In the summer of 2003, she left El Paso for Austin and is pretty much doing the same shit on another NBC channel. Anyways, I was checking out epnightlife.com and came across a pic of her and Celina Avila (channel 6 anchor) at some cheap club in El Paso. Here is the link to the pic of Michelle Valles:
Michelle Valles and her big boobs!
Friday, October 07, 2005
Should all the fun stop when you have kids?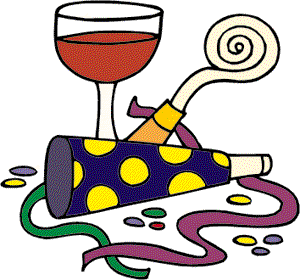 Image courtesy of art today
Should all the fun stop when you have little tots? Some people might say no and others might say yes. I personally believe that once you have kids, you should already have your shit together. Your man/women chasing, partying, staying out late, and other crap that is expected of teeny boppers and people in their 20's should stop once you have a kid. Lets think about this for a second, what is more important, going to party or spending time with your kids? I would most definitely go with the second choice. But then people would say, you cant always spend time with your kids you need your freedom and space! To which then I would reply "They are kids, they need a mother and father around 24/7". If you want to party and whore around then don't have a kid(s), get on birth control or something. Having a kid is a big responsibility and also requires that your ass be around! Now to all my readers, you are probably wondering as to why I would write something like this? Okay, let me tell you why I am writing this, I have witnessed a lot of women and men with children acting as if they were in their teens again. Many of them dont even bother to spend a little quality time with their kids, a majority of them just go to work and then party. The only time they see their kids is in the morning when they are getting ready to go to work.
Monday, October 03, 2005
Galilea is pregnant and has a super bad boob job!!!
Yo Yo Yo people! If any of you live in Mexico or have access to spanish language stations, then chances are you probably saw "Baliando por un Sueno" or in English "Dancing for a Dream". The premise of the show is to have famous Mexican stars dance with average people. For each dancing pair that wins each competition, they are one step closer to seeing one of their dreams come true. Well, Galilea Montijo is a contestant on the show. For those people that don't know who Galilea is, check out my post on Galilea from May of 2005.
My Galilea Post
Well the first thing that I noticed about Gali is that she has fake boobs. I swear, they are so stiff and mounted looking that there is no denying that her boobs are fake! If I were Gali, I would get them removed and ask for a cash refund or credit towards some type of surgery! I also noticed that when they were interviewing her and her dance partner, her dance partner mentioned the fact that Galilea was throwing up. This leads me to believe that Galilea has morning sickness and is pregnant. So expect Galilea to have a kid in the next 8 months.
Saturday, October 01, 2005
Amerie is pretty, but did she get a nose job?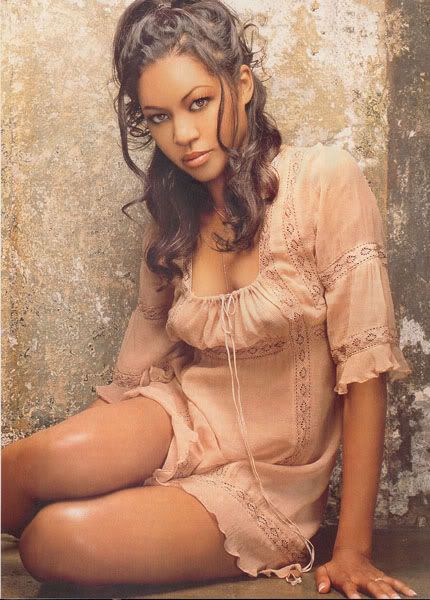 Image courtesy of someone
Amerie is one chick that I like, but rarely talk about in person or in my blog. But what I want to talk about is the fact that Amerie did something to her nose. At first I didn't notice her nose until someone on the internet pointed it out. I looked at some pics from 2002 and pics from 2005. And I did notice a difference in her nose. Before 2005, her nose was wide and in 2005 her nose became smaller and pixie like. Why did Amerie fix her nose? She looked hotter with her original God given nose!
Archives
May 2004 June 2004 August 2004 October 2004 November 2004 February 2005 April 2005 May 2005 June 2005 July 2005 August 2005 September 2005 October 2005 November 2005 December 2005 January 2006 February 2006 March 2006 April 2006 May 2006 June 2006 September 2006 October 2006 January 2007 February 2007 March 2007 April 2007 May 2007 June 2007 August 2007 September 2007 November 2007 December 2007 January 2008 February 2008 March 2008 April 2008 June 2008 July 2008 November 2008 December 2008 January 2009 February 2009 May 2009 July 2009 August 2009 September 2009 October 2009 December 2009 January 2010 February 2010 April 2010 May 2010 June 2010 July 2010 August 2010 September 2010 October 2010 November 2010 December 2010 January 2011 February 2011 March 2011 April 2011 May 2011 June 2011 July 2011 September 2011 October 2011 November 2011 December 2011 January 2012
Subscribe to Posts [Atom]