Giving the public something funny and entertaining to read since 2004!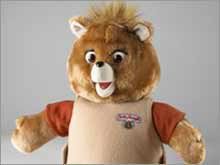 image courtesy of CNN.com
When Teddy Ruxpin hit store shelves in 1985, I was two years old. By the end of the 1980's I was six years old and I remember seeing many of my peers with Teddy Ruxpin bears. At the time I really didn't give a damn about Teddy Ruxpin, all I cared about were hot wheels and matchbox toy cars. The idea of having a creepy bear read to you, was pretty weird and freaky to me. If I can remember correctly, Teddy Ruxpin was pretty much a teddy bear with a casette player built into it. Each Teddy Ruxpin bear came with a few casettes and books for you and your kid to read. You could pop in a casette into Teddy's back, and he would read with you and command you to buy more crappy casettes. I believe that production of Teddy Ruxpin ended when the 1980's ended. Now Teddy Ruxpin has come back from the dead! They are now producing Teddy Ruxpin again in 2005. The new Teddy Ruxpin now comes with a digital disc or card and a few crappy read along books. Check out the new Teddy Ruxpin bear at the link below!
Teddy Ruxpin Offical Site