Giving the public something funny and entertaining to read since 2004!
I have to admit that this guy, Ralph Tresvant has a good voice. In 1990 he released his first self titled solo LP. The first single he dropped was "Sensitivity", a real smooth sounding soul track. This LP is worth picking up if you are into New Edition or smooth sounding soul.
Can you believe it, the new
Miss Hot Rod
is hispanic!!! I think this is a first for
Hot Rod
magazine. I found this out, when I picked up the latest issue of
Hot Rod
a few days ago. Her name is Giselle Lopez. I would say that she is somewhere between 20 to 25 years of age. I would rate her at a 8 on a scale of 1 to 10. I dont know, maybe I am giving her a high score, because I like hispanic women. Here is a pic of Giselle.
photo provided by Hot Rod Magazine
The
NY Post
recently published an article on Julissa Bermudez. Here is the link for the article,http://nypost.com/tempo/04130501.htm
According to the article, Julissa might give Free a run for her money. I think Wendy Williams said this.
Whenever I hear that name, I have flashbacks about lowriders and sunny California. As if all you kids dont know, Eiht has a new album out. I think its titled "Veteranz Day". I haven't had the opportunity to hear it, so somebody let me know how it sounds. If you young rap/hip hop listeners dont know who M.C. Eiht is, he is a rapper that put out a gang of albums back in the early to late 90s. He was a part of the group C.M.W.(stands for Comptons Most Wanted) and he did a song titled "Straight up Menace" on the "Menace to Society" soundtrack. I suggest that all you teeny boppers pick up "We Come Strapped" or "Death Threatz" from M.C. Eiht. These two albums represent the West very well. When you teeny boppers go out to the store, dont pick up that lame Game album, pick up a Eiht album or a Spice 1 album. You will not be disappointed!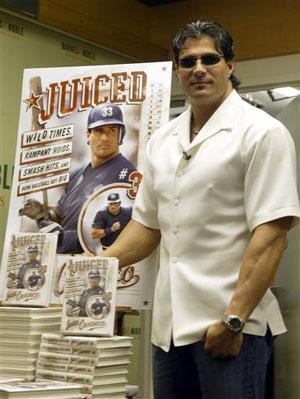 Hey whats up everybody! I have a question for everybody, do you guys think that Jose Canseco is still doing steroids? I was watching Howard Stern the other night, and I noticed that he still looks like King Kong! What do you guys think?
Has anybody heard this record? I dont know if any of you guys are familiar with the situation on this album. This album was going to be released on Def Jam records back in 1997. I remember seeing promo ads for the album in
The Source.
Well Crap Jam, decided to put the album on the shelf and then drop Mega from Crap Jam. So now its 2005, and Mega has released the album on his own label. I have heard a few tracks off the album, "Montana Diary, "Dead Man Walking", and "Angel Dust". To be honest with you, I had already heard "Angel Dust" on that Cormega hustler mixtape that was put out a few years ago. I was impressed with the three tracks that I mentioned earlier. But I have yet to hear the rest of the album. Somebody please, leave your comments on the album!