Giving the public something funny and entertaining to read since 2004!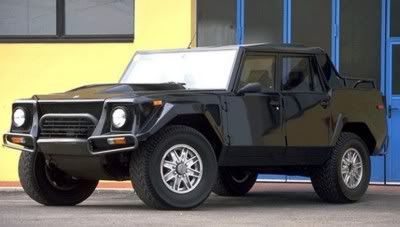 Image courtesy of Autosrapidos
Many people think that Porsche was the first supercar company to produce an SUV. As a matter of fact, they are not the first supercar company to produce an SUV. In the 1980s, Lamborghini decided to make an SUV called the LM002. To describe this vehicle in simple terms, I would have to say that it looks like an early version of the GM Hummer. You know what, it looks just like a fugging Hummer. Maybe GM did take some ideas from Lamborghini and the LM002. The LM002 was manufactured from 1986 to 1992 and was not a huge profit maker for Lamborghini. This SUV carried a 5 liter v-12 engine that produced a supposed 455 horsepower. The LM002 engine was backed by a five speed manual transmission and a two speed transfer case. People thought that the LM002 was only built for speed, but they were dead wrong. This truck/SUV had four wheel drive and could be used for serious off-roading. According to Lamborghini heads, only 300 LM002 were produced from 1986 to 1992. With that being said, the LM002 is a rare machine and should be given a place in automotive history books!