Giving the public something funny and entertaining to read since 2004!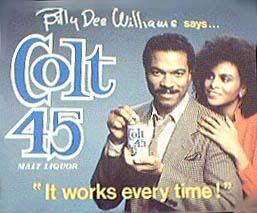 It's Billy Dee Williams fault that I started drinking Colt 45!!!
Hey! Where the hell is Billy Dee Williams at? I haven't seen this light skinned man since
Undercover Brother
in 2002. Does anybody know as to what Billy Dee is doing now? Anyways, I always thought and I still think that Billy Dee is a good actor. He was so suave in
Mahogany
, between him and Diana Ross, Billy Dee was the better looking one! Peace to Billy Dee Williams and his smooth ass!