Giving the public something funny and entertaining to read since 2004!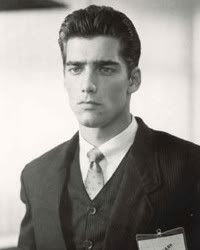 I bet you guys are wondering as to why I would write something to Ken Wahl on my site? Let me tell you why I am writing something to Ken Wahl, I miss the guy! I swear he was so fugging cool and smooth in
The Wanderers
and in
Fort Apache, The Bronx
. I swear this guy was a good actor and he could probably kick Arnold Schwarzenegger's Austrian ass! So here is my message to Ken Wahl!
Dear Ken Wahl,
I was wondering as to why you quit the movie and t.v. business? Was it the drugs,women, and booze that made you quit? Was it the fame that was getting to you? Were you not getting paid enough for your work in movies and t.v.? Please Ken, give me and the rest of your fans an answer as to why you choose to quit the biz and go into hiding!
Your Fan,
E the Kid