Giving the public something funny and entertaining to read since 2004!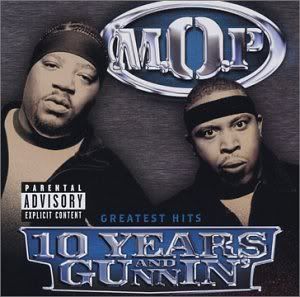 I knew this was going to happen sooner or later. M.O.P. is leaving The Roc. It was announced today by their manager Laze. From what I understand, M.O.P. never fit in at Roc a Fella (No Shit). According to Laze, they have a domestic record deal, but not an international deal. For more info on this story, check out the link below. You know I was thinking, maybe M.O.P. didn't like some of the ideas that Dame was throwing at them? Here is an example of what a conversation between M.O.P. and Dame might go:
Dame: Hey Billy and Fame, I have a new idea for you guys
M.O.P.:WHAT IS IT SON!!
Dame: You guys should cut a record with Beyonce!
M.O.P.: GET OUT OF HERE WITH THAT SHIT, WERE RUGGED NEVA SMOOTH! RAPID FIRRRE!!!
Dame: Cmon guys!
M.O.P.: (leave building yelling MASH OUT POSSE)
http://www.allhiphop.com/hiphopnews/?ID=4352