Giving the public something funny and entertaining to read since 2004!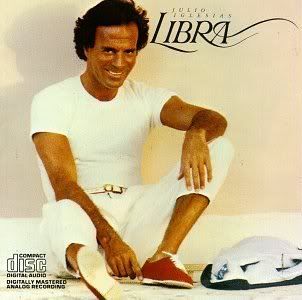 Libra (1985), Julio Iglesias
I have to admit, Julio has a smooth voice when it comes to singing in spanish. But when it comes to singing in english, he sounds like the Count from Seasame Street. With
Libra
, Julio sings 9 out of the 10 songs in Spanish. The only song that is sung in english is,
Got you Under my Skin
. If you like jazz/r&b type of music with spanish lyrics, then you will love this album. For this album being produced and made in the 80s, it does not sound like an 80s album. I say this for the fact that there is only one song that has a synthesizer on it. In the 80s, artists were going crazy with synthesizers and were using them in a lot of their songs. So I guess you could say that this album does not sound dated. Thats all that I can really say about this album.